Realtek participates in the 2023 Arm Tech Symposia, showcasing the latest IoT Wi-Fi and Bluetooth solutions
Smart is Redefined
The 2023 Arm Tech Symposia annual technology conference aims to showcase the innovative technologies and future trends of Arm and its partners. It provides a platform for hardware engineers, software developers, foundries, SiPs, OEMs, ODMs, software service providers, startups, and other industry experts to exchange ideas. The annual technology conference will tour seven cities across four regions from November 1 to December 1, 2023. Realtek's IoT Wi-Fi and Bluetooth product lines will participate in the Arm Tech Symposia events in Tokyo, Japan, Seoul, South Korea, Shanghai, and Shenzhen, China, with speeches and booth presentations. Participating in the Arm Tech Symposia annual technology conference aims to showcase Realtek's IoT Wi-Fi solutions – the Ameba E series, and Bluetooth solutions – the BEE series, which combine the design advantages of ARM's security platform and advanced technology. With the theme "Smart is Redefined," Realtek demonstrates how IoT Wi-Fi and Bluetooth solutions can rapidly transform creativity into mass-produced products, gradually turning ideals into reality, and enabling people to enjoy a more intuitive and intelligent life experience through smart devices.
2023 Arm Tech Symposia Event Website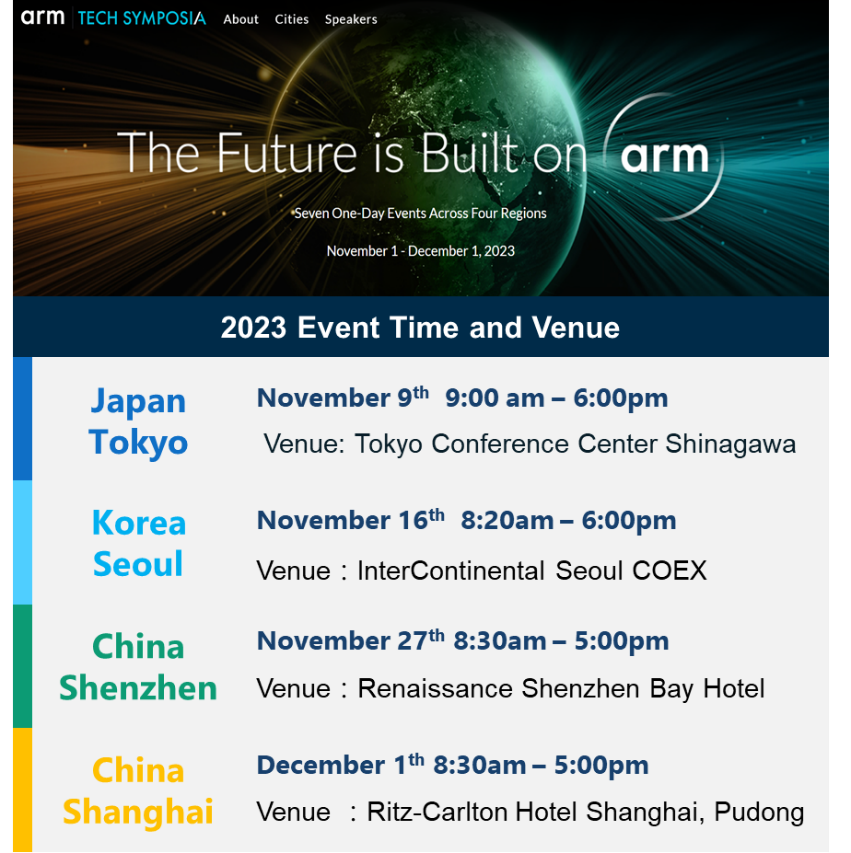 IoT Wi-Fi Solutions – Ameba Series
The IoT Wi-Fi solution – Ameba series offers the latest MCU architecture and supports the new generation Matter protocol, featuring dual-core computing and wireless connectivity technologies, including Wi-Fi 6, Bluetooth 5.3, and Wi-Fi Sensing. Wi-Fi 6 not only provides high transmission speed and performance, but Wi-Fi Sensing also elevates the functionality of smart devices to a new level. It enables interactive data exchange, accurately senses human motion, and provides real-time feedback. Moreover, this technology is deeply integrated with cloud computing, fully utilizing data interchange with peripheral devices and collaborative cloud computing to optimize intelligent models at any time. In the field of smart voice, the Ameba series integrates efficient DSP technology to ensure smoother and more accurate voice processing and recognition. Additionally, it features dual-mode Bluetooth and the latest Auracast broadcast audio technology, supporting up to 1-to-12 wireless audio transmission with Wi-Fi Audio support.
Bluetooth Solutions – BEE Series
Realtek's Bluetooth product is a multi-protocol, multi-interface BLE MCU dedicated to providing a complete platform for customers to develop various types of Bluetooth products. From basic Bluetooth Transceivers to rich built-in ARM series MCUs or Bluetooth products for audio, it offers comprehensive design requirements. For wearable watches, the BEE series provides better UI graphic performance features, integrating a 2D engine in addition to the option of a CM55+MVE processor, which enhances the UI graphic display of fitness watches. It is also suitable for smart UI applications and efficient BLE dashboard solutions for two-wheeled electric bikes/motorcycles. In the field of Bluetooth earphones, the latest Bluetooth Low Energy Auracast broadcast audio solution will be showcased, fully supporting Auracast transmitters, auxiliary devices, and receiver solutions. In the auxiliary device segment, RealCast is a reference APP that Realtek can provide to customers to realize Auracast auxiliary devices, enabling a complete experience of LE Audio technology.
Realtek has launched a multi-protocol Bluetooth Dongle development solution to meet various customer development needs. Among them, the Windows Dual-Mode Bluetooth Dongle is designed specifically for Windows, supporting multiple applications from high-quality audio to wireless calls and human-machine interfaces. The BT+Auracast Dual-Mode Dongle provides one-to-many Bluetooth Low Energy broadcast audio, suitable for host devices such as TVs and OTTs. For smart homes, the Matter over Thread RCP Dongle offers multiple interface options, facilitating communication and network expansion between host devices and Matter devices. Lastly, the driver-free Auracast & Gaming Dongle is a multi-functional, highly flexible transmitter, especially suitable for high-quality audio-video and gaming applications. Realtek's range of multi-protocol smart Bluetooth Dongle solutions makes it easy for host devices to control various smart devices at home, with TVs/OTTs playing the role of the central control hub.
At this year's Arm Tech Symposia annual technology conference, Realtek introduced a variety of IoT Wi-Fi and Bluetooth solutions that combine ARM's security platform and advanced design advantages, demonstrating diverse applications and high reliability, and are committed to driving the entire industry into a smarter, more convenient new era.